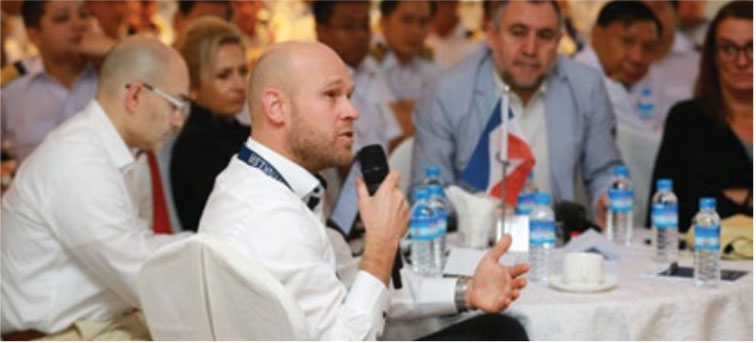 24 Jun

People First
Every year we host a special event in Yangon, Myanmar where we invite respected clients, officers and ratings to join us for a series of workshops and engagement sessions. This year the theme for our Owner & Officer Event was 'People First'.
In 2019 we will implement an upgrade to our on board 'Fitness Reports'. Not only will we rebrand this label to the more accurate term of 'Appraisal' but we will include some fantastic new features making an altogether improved performance and development management tool. These new features include improved assessment criteria linked to a new marinized psychometric profile and rank-specific competencies, real life transparency for the appraisee who will be able to receive their appraisal direct to his/ her mobile phone where it can be used as an effective personal development plan on future contracts. There will be dedicated inhouse dashboards for managers as well as helpful alert systems for all stakeholders. Most importantly though, it will provide the perfect platform for feedback conversations.
Feedback is never easy, particularly when it comes to providing comment which is honest, constructive and effective. However, this can only be mastered with some good direction and practice. We opened our event this year in a most dramatic way, with our "officers" – Captain Thomas Reppenhagen and myself – taking to the stage to perform various sketches acting out the rights and wrongs of how to provide and receive effective feedback, supremely narrated by our very own Master of Ceremonies Mr. Peter Chilman. The key to finally achieving success and conducting an effective feedback conversation on stage was achieved through the audience providing their feed- back to the actors on how to improve their performance. We closed the session with a good example, acted out on stage, of how to provide and receive feedback. All thanks to the feedback given by our delegates and guests!
"Tell me, I'll forget. Show me, I'll remember. Involve me, I'll understand" – Chinese Proverb
Our next session was hosted by our Director of Uniteam Training, Mr. Paul van Empel, who provided us with the future of training. Without repeating what you may read in another article, it was an extremely captivating session showcasing some of the exciting tools we will use in the very near future, taking full advantage of the latest technologies and ideas. Training is dead, competency is the future!
Mental health is currently very prevalent in maritime press, but I am pleased to say it has also been a regular topic at this event and other forums that we host for several years. It is very important to raise awareness at every opportunity. Talking about mental health amongst ourselves is truly nothing to be embarrassed about and the more we talk about it, the more chance we might save someone who could be in a very dark place. Only recently I was made aware of a tragic situation which resulted in the suicide of a young British sailor. We all know about the stories of people taking their own lives but rarely do we make the link to mental health. This must change. Mental health is as important as physical health. Bring it to the forefront and talk about it on board or with your friends, colleagues and family.
Following a healthy lunch, provided by our team at Mahlzeit Restaurant our guests visited our Uniteam Group of Companies facilities in Myanmar providing them with an insight into the full scope of our capability in the region. Those delegates and guests who remained with us in our Function Hall participated in an engaging 'learning from incidents' session. Learning through the mistakes or miscalculation of others is often a way we can improve ourselves and the way we behave.
On the second day of our Owner & Officer event, we started the workshop by providing our annual safety update. Following a brief review of our ongoing, hugely successful TH!NK LSR campaign and the subsequent 20% reduction in personal injury (YES, 20% REDUCTION IN PEOPLE GETTING HURT) it was back to the lights and glamour of our main stage. Two very fine actors from our Yangon office, Mr. Aung Aung Kyaw and Mr. Kyaw Kyaw Oo, took to our stage and performed how 'not' to conduct a safety intervention on board. Following some expert advice from a refreshed and engaged audience, our team revisited the scene again with the new direction to finally perform how to conduct safety intervention in the most effective, safe manner. We finished our safety session with a very slick, but hard hitting inhouse produced movie. Over the previous months our very own Peter Jackson, a.k.a. Mr. Joseph Andreou created a splendid short movie piece showing exactly why safety is important to all of us. It involved staff from each of our global offices to create this fantastic joint message of how important safety is to Uniteam Marine.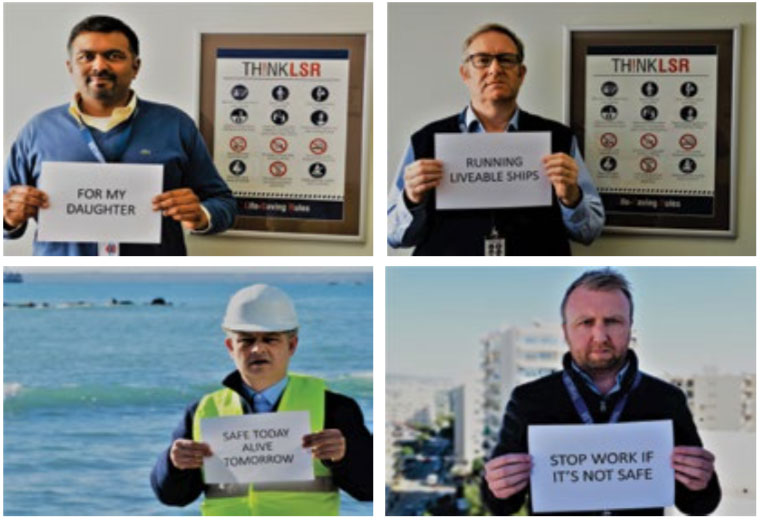 This year we were honoured to welcome Mr. Shiji Sudhakar Pisharath, one of our flying Technical Managers who hosted a fantastic session on Effective Communication. Certainly, a subject close to his own heart which shone through in the most engaging and humorous workshop of the day. We worked through various scenarios, movie clips and team exercises to show why we must always consider the most effective way to communicate to our colleagues and on board visitors.
Our next session began with the spectacle of two goldfish on stage, happily swimming around in their bowl. The link was of course the clean water! We were very pleased to welcome Captain Dimitar Abadjiev to the presenting team. Turning the Tide on Environmental Change was an immensely detailed workshop focusing on the Clean Water Act (CWA). As many of you will already know, the CWA establishes the basic structure for regulating discharges and pollutants in U.S. waters. Captain Abadjiev managed to present this very complicated subject in an accessible, informative and entertaining way which kept the audience engaged throughout.
Our campaigns don't end with just safety and mental health; our People First – Fitness First session has found a regular slot in our workshops. Physical health and condition are a key theme in our ongoing improvement campaign to help us all be fitter, stronger, healthier and better! This year's session involved our quartet of fitness superheroes each selecting a partner from the audience and competing against the clock in some grueling challenges involving various weights. Mr. Peter Chilman and I commentated from a very safe distance, with Mr. Joseph Andreou, Operational Efficiency Manager and Mr. Nicolas Assimenos, Business Development Director unsurprisingly taking the crown in this year's fun fitness competition. Try to focus on improving your own fitness, watch what you eat, see the difference.
A successful recipe is always best repeated and 2019 was certainly no different. Our closing gala dinner was held at the prestigious Yangon Sailing Club where we were treated to a rocking live music performance from local musicians, a fantastic (but safe) fire dancing show and a very generous buffet. The serene setting at Inya Lake was the perfect end to what had been a busy, but productive schedule for all guests and participants.
This year was certainly a little bit special. We tried to bring a fresh method of learning through acting on stage. We hope that the audience found this not only effective, but as enjoyable to watch as it was to perform. Maybe there is some truth in that old Chinese proverb after all?
I take this opportunity to thank our guests, delegates, actors, presenters and especially our organizers for making 2019 a truly memorable Owner & Officer Event. Let us keep all the topics of discussion alive and continue to talk about them with each other. Until our next issue be safe, be aware, talk about mental health and give feedback!
Richard Knighton, Fleet Personnel Deputy Director